God Promised…. I trust Him
Sometimes there are no words that can help heal the ache or bring comfort.
Sometimes the pain and confusion of the situation leave us not knowing how to feel.
Sometimes the bewilderment consumes us, as we think a million times or more… "I just don't know…."
Sometimes there is nothing you can do but make it hour by hour… working your way up to day by day.
Sometimes "time" is the only thing that will help.
Sometimes…. Nothing on earth brings comfort.
Keep trusting the Lord, keep focused on the fact He is the same yesterday, today and forever! HE LOVES YOU #Tworship

— Marie Wikle (@spreadingJOY) February 25, 2014
When our hearts are heavy and the tears seem never ending, we don't always have the clarity to search the scriptures for God's promises. Here are some for you. May they bring you comfort in your time of need.
When Life Hurts…. And even when it doesn't – God Promised……
To fight for us – Exodus 14:14
Always be there for us – Deuteronomy 31:6, Joshua 1:5, Hebrews 13:5
That He has Overcome the World – John 16:13
He has a plan – Jeremiah 29:11, Ephesians 2:10, Romans 8:28
To give the weary rest – Matthew 11:28-29
Eternal life is a Gift from Him – Romans 6:23
He will supply all our needs – Philippians 4:19
He will give the victory – Romans 8:37
Nothing will separate us form Him – Romans 8:39-39
That when we can't pray at all that the Holy Spirit will intercede for us – Romans 8:26
To give power to the weak and strength to the powerless – Isaiah 40:29
To renew our strength – Isaiah 40:31
Always be available for us to approach Him – Ephesians 3:12
That He will never change – Hebrews 13:8
His promises are true – Numbers 23:19, Joshua 23:14, Romans 4:20-21
NOTHING is too hard for Him – Genesis 18:14, Jeremiah 32:17, Jeremiah 32:27
IT WILL BE WORTH IT ALL one day – Matthew 13:43, John 14:2, Revelation 22:14
No More Tears – Revelation 21:4
To show mercy to those who are merciful to others – Matthew 5:7
That He will be close when we need comforting – 2 Corinthians 1:3-4
He will be a voice… guiding us – Isaiah 30:21
That JOY will come in the morning – Psalm 30:5
That He is preparing a mansion for us – John 14:2
That He will not forget all that you've done – Hebrews 6:10
That when we sow in tears we will reap JOY – Psalm 126:5
Peaceful sleep (when trusting HIM) – Psalm 4:8
We will not walk through the valley of the shadow of death alone – Psalm 23:4
Everlasting goodness and mercy – 1 Chronicles 16:34
HE is our place of rest – Psalm 46:1, Nahum 1:7
Everlasting encouragement – 2 Thessalonians 2:16-17
He would carry our burdens Psalm 68:19
When we schooch close to Him, He WOULD schooch close back – James 4:8
He would refresh and restore us – Psalm 23:3
HE HEARS – Psalm 40:1
He will go before you – Deuteronomy 31:8
He will go with us and give us rest – Exodus 33:14
To see the heart behind the person – 1 Samuel 16:7
His joy is our strength – Nehemiah 8:10
He will watch over us – Psalm 121:8
Before He even formed us…He Knew Us – Jeremiah 1:5
That we will reap what we sow – 2 Corinthians 9:6-8
That mercy triumphs over judgment – James 2:13
That if we submit ourselves to God AND resist the devil he will flee from us – James 4:7
That we can put all of our cares on Him because HE cares – 1 Peter 5:7
There is JOY in His Presence – Psalm 16:11, John 6:35, Philippians 3:8
To leave us His Spirit – John 7:37-38
A little faith is all we need – Ephesians 2:8-9, Matthew 17:20 Luke 17:6
To return for us – Revelation 22:20, Matthew 24:42, John 14:1-4
That if we help others, we will be blessed – Proverbs 22:9, Luke 6:38
Everlasting Life – John 3:16, John 6:47, 1 John 2:25, John 11:25
His JOY will be in us – John 15:11
Compassion – Psalm 103:13
I Trust Him
Do you?
What promises get you through when there are no words on earth that brings comfort?
Do you have an article on God's promises? If so, please leave the link to it in the comments so that those that read this can easily get to your list.
May you be encouraged by these promises and use your trials and tears to encourage others.
Don't miss a single encouraging article!
Subscribe to Spreading Joy by Email:
Remember….. pic.twitter.com/eg18iAfdqY

— Marie Wikle (@spreadingJOY) January 19, 2014
This article is listed at: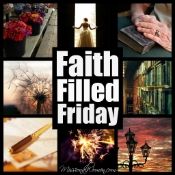 © 2013 – 2020, Spreading Joy. All rights reserved.